What Are Buzz Rewards?
Simple! You earn Buzz Points as you interact with PerfectBee in various ways. You can then redeem these for discounts at the PerfectBee Store.
With our many ways to earn and VIP Tiers, we believe Buzz Rewards is the most generous loyalty program available to beekeepers. Oh, did we mention it's totally free?
Use Buzz Points to Save on….
Beehives, accessories, tools, protective clothing and more.

Earning Points
Create an Account
250 Buzz Points, right there!
Spend At The Store
$1 = 1 Buzz Point
Refer A Friend
250 Buzz Points for You, 10% Off For A Friend
Share Us on Facebook
Share us and we'll share 50 Buzz Points
Share on Twitter
100 Buzz Points winging to you
Redeeming Points
Redeeming Buzz Points is easy. Just logon to your account and redeem one of the following coupons. We'll generate a discount code you can immediately apply at checkout.
$25 = 2500 Buzz Points
$50 = 5000 Buzz Points
$100 = 10000 Buzz Points
Want Quicker? Check Out VIP Tiers
Remember we said you'd pick up 1 Buzz Point for each dollar spent? Once you earn enough Buzz Points we'll make you a VIP, first at the Silver Level and then at Gold Level. A quicker way to forage…
Bronze: 0 – 999 – 1 Buzz Point per Dollar Spent
Silver: 1000 – 1999  – 2 Buzz Points per Dollar Spent
Gold: 2000+ – 4 Buzz Points per Dollar Spent
How To Get Started
Easy again!
Just head over to the PerfectBee Store, register for free (250 Buzz Points right there!) and then start building those Buzz Points.
Questions? We'd love to hear from you….

The Not-So-Small Print
Why make it small print when we have nothing to hide? It is our sincere intent to make Buzz Rewards as fair as we can. Here are the things you should know about our simple, transparent and honest rewards program.
How Do I Redeem Buzz Points To Save Money?
Logon at the PerfectBee Store
Click the PerfectBee Buzz Rewards popup (bottom right in the store web page)
Select the Rewards tab
Choose the coupon you'd like to redeem, based on the number of Buzz Points you have accumulated
We will pop up a discount code that you can apply at checkout (we will also eMail you a copy, for safe keeping)
Find your products, head to the checkout and use the discount code. Simple!
For reference, here's what you will see on the Rewards tab.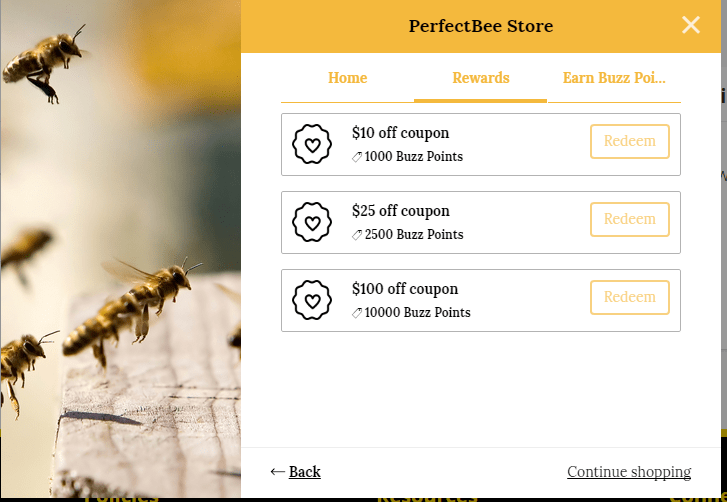 When I Move Up To The Silver or Gold Tiers How Long Do I Stay There?
We calculate your tier based on the number of Buzz Points you have earned in the last year.
How Much Does It Cost And What Is the Maximum Number of Buzz Points
No cost! No maximum!
Nice, eh?
Can You Use Buzz Points With Other Discount Coupons?
Afraid not. But you CAN apply them to purchases of products that are on sale.
How Do I Register For Birthday Buzz Points?
To joyfully send your Birthday Buzz Points, we'll need you to tell us your birthday a month in advance. If we miss that, we'll get you next year!
This Is Just One Of Those Schemes To Sell My Information To Someone, Right?
Categorically – nope! We never have and we never will.
We respect your privacy. This is our gentle offering to thank you and offer you a further incentive to shop with and stay with PerfectBee for your beekeeping supplies.