No fees. No minimums. No fuss. That's Buzz Rewards.
At PerfectBee we say Thank You to our wonderful customers with our generous, honest and straightforward loyalty program – Buzz Rewards. Earn enough Buzz Points and your next beekeeping purchase could be on us.
Whether you are looking for medication, treatments, accessories, clothing or even complete bee hives, earning enough Buzz Points can get you what you need for your bees – at no cost!
Nobody likes the small print, the gotchas, the minimum spending requirements or anything that makes other loyalty programs complicated. So we designed our program to be as simple as possible. Here is how it works.
Sign Up Costs
NONE!! It's totally free to sign up. No fees of any nature!
Just register an account at the PerfectBee Store and we'll start tracking your Buzz Points. Our sign up page is at https://store.perfectbee.com/account/register.
We will give you 250 Buzz Points to get started – just for registering an account
Already ordered from us but didn't have an account at the time? No worries. We will credit you Buzz Points for that order retroactively, when you register your account.
Earning Buzz Points
No minimum purchase
Earn Buzz Points on all paid purchases
Spend one dollar, get one Buzz Point – simple!
Redeeming Buzz Points (aka saving money!)
No minimum number of Buzz Points to redeem points
No silly discount coupon codes to remember – just apply your Buzz Points at checkout.
100 Buzz Points = $1 in savings
To redeem Buzz Points, just…
Logon to your account at the PerfectBee Store
Find your desired product
"Purchase" with those Buzz Points. Could it be easier?
Check out the example below. Right under the price you will see the "Buy for…." button. Click that, instead of Add To Cart. And note – you can even use Buzz Points on sale items to save on Buzz Points!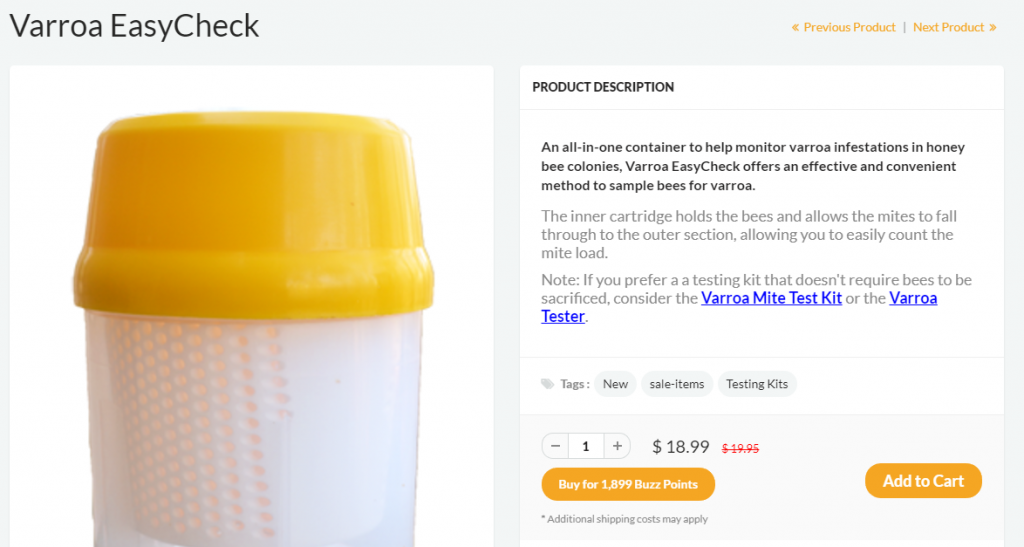 The Not-So-Small Print
Why make it small print when we have nothing to hide?
Fed up with loyalty programs where you have to spend a ton of money, commit to regular purchases or sacrifice a chicken!!!! – just to qualify?
So are we! So we designed Buzz Rewards to be as simple and fair as can be. Here are the things you should know about our simple, transparent and honest rewards program.
Can I Use Buzz Points for Anything At The PerfectBee Store?
Yes. Next question?
What About Shipping?
You can apply your Buzz Points to shipping costs (and remember, if your order is $75 or more then your shipping costs are precisely… zip!!!)
How Much Does It Cost  To Join And What Is the Minimum Number of Buzz Points I Need?
No cost! No maximum!
Nice, eh?
When Can I Use My Buzz Points?
Buzz Points are available for redemption 7 days after the qualifying purchase.
How Long Do My Buzz Points Last?
Your Buzz Rewards remain available for a full year after the qualifying purchase.
Can I use Buzz Points on Products That Are Already On Sale?
Of course! It would be rude to say no!
This Is Just One Of Those Schemes To Sell My Information To Someone, Right?
Categorically no! We never have and we never will.
We respect your privacy. This is our gentle offering to thank you and offer you a further incentive to shop with and stay with PerfectBee for your beekeeping supplies.