Fading Rose Candle Mold
Create beeswax pillar candles shaped like beautiful bouquets of roses using this durable silicone mold from Lyson.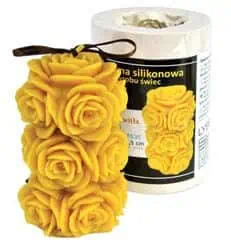 Craft a bouquet of timeless roses. Lyson molds are easy to use, but produce professional level detail that's sure to get you noticed. Made of long lasting silicone, this mold offers easy candle removal.
Finished Candle Dimensions:
Height: 4-1/2″
Width: 2-1/2″
Note:
These molds have a unique cut down the side and halfway across the bottom. This makes for easy removal, and eliminates the need for a wicking needle, but does require additional rubber bands to prevent leaking.
Read the Lyson Candle Mold Instruction Sheet
Uses 8.1 oz. of wax