Guest Soap Mold
Impress customers and guests with elegant soaps crafted using our honeybee-shaped mold.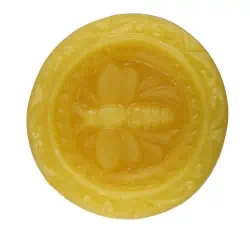 Each Bar: 2-1/2″ diameter x 3/4″ deep
This soap bar mold features a honey bee center stage with ornate scrollwork surrounding it. A beautiful bar for your guests or customers!
This tray has five cavities that will produce a 2-1/2″ x 3/4″ bar. This multifaceted mold works great for soap, lotion bars, wax bars, and more! These molds will tolerate temperatures of 135-145 degrees Fahrenheit. Above these temperatures, warping may occur. Soap is easiest to release 12-24 hours after cooling.