Soap Making Beginner Kit
Our soap-making kit for beginners comes with everything that you need to make your own all-natural cold-pressed soaps!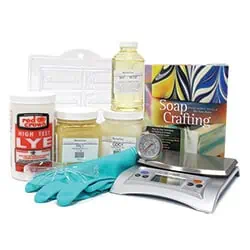 Try your hand at the art of soap-making effortlessly with our complete soap-making kit. Create hand-made, beautiful gifts that your friends and family will be raving about for years to come!
This kit has everything you need to get started, including coconut, palm, and almond oils that will give your soaps a delightful scent.
The comprehensive 239 page Soap Crafting book included will aid in expanding your future soap-crafting endeavors, too! With many different soap crafting techniques and over 31 recipes, you'll be a pro in no time at making all-natural soaps that will leave your skin feeling silky smooth.
Our Soap Making Kit Includes:
Deluxe Digital Scale
Soap and Wax Thermometer
Handmade Soap Mold
Soap Making Lye
1.9 lb. Coconut Base Oil
16 oz. Sweet Almond Oil
1.7 lb. Palm Base Oil
Soap Crafting Book
Reusable nitrile gloves and safety glasses