2 Frame Plastic Honey Extractor
A budget-friendly extractor that gets the job done!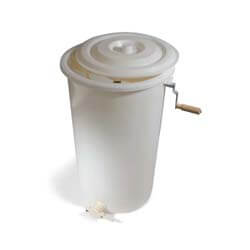 This extractor saves you hard-earned money without sacrificing the end goal, honey extraction.
Made of plastic, except for a steel center shaft, this hand-cranked extractor includes a plastic tank, cover, and honey gate. Holds two frames of any standard size (5-3/8″ through 9-1/8″ tall by 19″ long).
Note:
Leave the gate open a slight crack when extracting to prevent honey from building up to the basket
This extractor is tangential, meaning it can only extract one side of a frame at a time. The frame must be flipped manually to extract the second side.