Colony Membership Gift Coupon
Give the gift of Colony membership to a friend or loved one. Colony has helped thousands of new and current beekeepers learn and enjoy this wonderful hobby.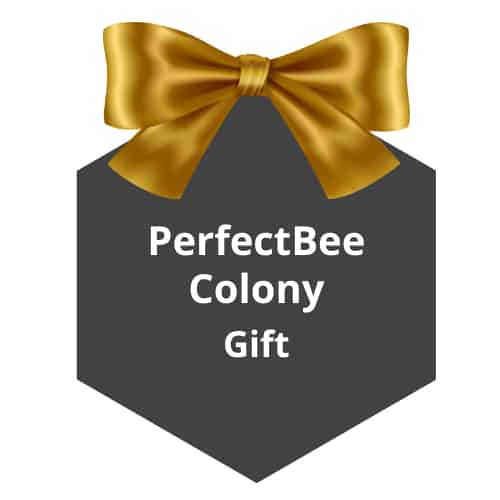 What is Colony?
Colony is our very popular community for hobbyist beekeepers. We have many members who have learned and started their beekeeping with Colony, as well as many who have years of experience. For non-beekeepers, our unique online Academy Syllabus provides a rich and detailed way to start!
Colony membership includes the following…
Our full Academy Beekeeping Syllabus. Featuring 3 courses and well over 100 lessons, Academy will help the new beekeeper confidently install their first beehives. Academy features a learn at your own pace style and includes 3 tests and Certificates of Completion (one for each course) to celebrate progress through our courses.
Colony Cluster. Fun and informative online meetings, joined by our experienced PerfectBee Ambassadors in real-time, with discussions on important beekeeping topics.
Webinars and Recordings. As well as over 12 hours of webinars relevant to our Academy syllabus, members also have access to all our historical webinars and Cluster recordings.
Colony Forum. A members-only online forum with people from all over the USA and beyond. A great way to engage with and learn from other beekeepers, while sharing your own experience as well.
Discounts at the PerfectBee Store. All Colony Members automatically receive 5% off all items (including sale items) at the PerfectBee store.
How Does the Gift Plan Work?
After purchasing a gift membership, we will send you – the gifter – a unique coupon code. This is sent to the email address you provide when purchasing the gift coupon i.e. your own email address and, typically, not the email address of person you wish to send the gift
At time of your choosing* and in any way you prefer, send that coupon code to your lucky recipient.
Your recipient can then sign up for an annual PerfectBee Colony membership (at https://www.perfectbee.com/colony), redeeming the coupon you sent them. Credit card details are not requested since the gift coupon provides a 100% discount on the first year of annual membership.
After signing up, we will send your recipient our "Welcome…" emails, to introduce the, to Colony and help them make the most of their membership.
* And there's no rush. Gift membership coupons can be redeemed any time within 365  days of the purchase date of the Gift Coupon.