Lyson Hive Feeder
Integrates into your other Lyson hive equipment. Holds a considerable amount of syrup in order to keep your bees fed.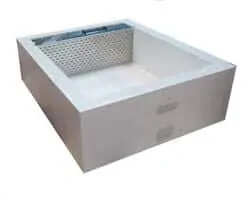 The Lyson Hive Top Feeder includes…
Pair of latches (not shown) to latch securely to your other hive components.
Access to the brood chamber
Holds about three gallons of syrup.
Sliding gate in the stainless ladder allows you to feed patties instead of syrup in the reservoir if desired.
We recommend painting the exterior of all polystyrene equipment with an exterior grade latex paint to protect it from the UV rays.