SolutionBee HM-6 Hive Monitor With WiFi
This third generation hive monitor has all the features of the HM-5 but can now upload automatically over WiFi.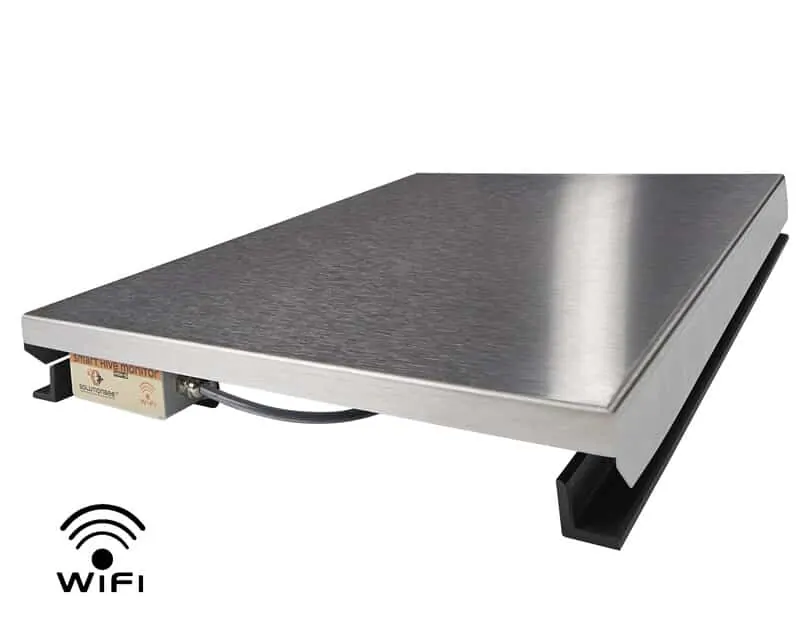 Perfect for the hobbyist beekeeper, this unique and powerful device measures and stores accurate weight and temperature readings, every hour, ready to be transmitted via WiFi. Readings are precise and measure tiny changes in beehive weight. Solutionbee devices are also made to last for years.
An important benefit of the under-the-hive design of the HM-6 is that the entire weight of the hive rests on the monitor, so weight measurements are very precise. This compares with "tilt weight" monitors which which take a measurement and extrapolate, to estimate the actual weight (this can vary based on factors such as the location of bees and honey). With the HM-6, small differences in weight can be charted, often leading to valuable insight.
HM-6 WiFi Advantages
WiFi support for backyard and remote uploads (where there is WiFi coverage) *
Quick, easy connection to the Internet for insightful data analysis
Saves you travelling to your beehives just to take a reading, by remotely monitoring your hives.
Compatible with the Solutionbee HiveHub(tm) for remote locations without WiFi (please contact PerfectBee for information on HiveHub)
* Configuration of the WiFi component can be completed using an Android phone. iOS support for WiFi setup is not yet available, but is planned.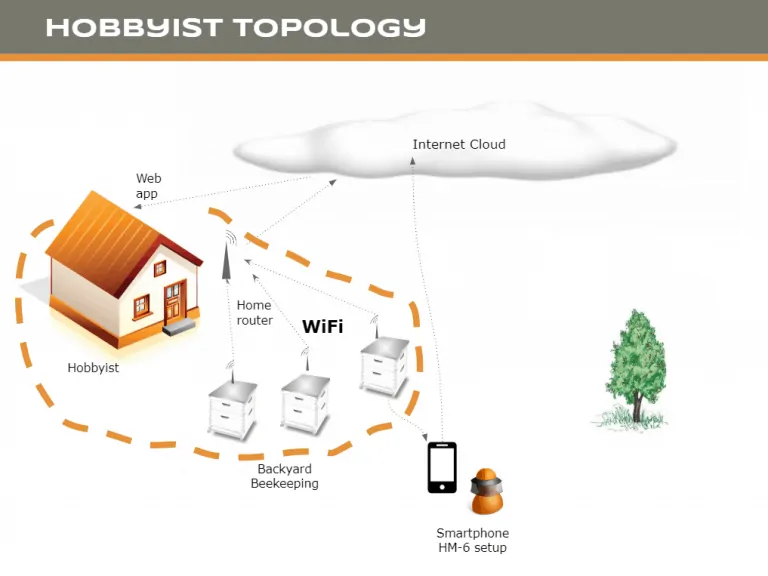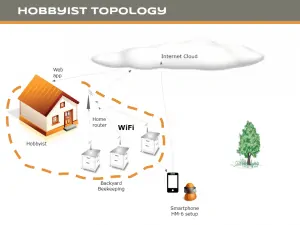 The monitor reads both the weight and temperature of the hive, every hour. These readings are extremely precise and can help identify small but potentially illuminating changes. This offers a continual flow of data, to track the growth or decline of your hive all year round.
Works with companion SolutionBee phone B-Ware apps, available for Android or iOS (Apple)
A strong build to help the retain the stability of your hive as boxes are added. The HM-6 is tested to support weights of up to 330 lbs (150 kg). The HM-6H model is available to support up to 770 lbs (350 kg). Please contact PerfectBee if you have an interest in this.
The battery is rated for three years but in normal use may extend to beyond that timeframe, due to the extremely low power requirements of NFC (as compared to Bluetooth). Note: Replacement batteries are available here.
WHY CONSIDER A HIVE SCALE?
Tracks the weight of a hive helps determine when hives are healthy and enjoying a good nectar flow (weight increasing) or when they are potentially unhealthy and/or are not collecting nectar (when the weight is constant or decreasing).
Indicates which colonies are outside normal temperature and humidity ranges.
Indicates which colonies experience the heaviest nectar flows
CERTIFIED TO SEND DATA TO THE BEE INFORMED PARTNERSHIP
The SolutionBee HM-6 is certified for the Bee Informed Partnership (BIP). This means that data can be automatically sent to BIP, after opt-in to this program. Further details of the Bee Informed Partnership can be found here.
B-WARE MOBILE APP
The B-ware™ Mobile App is a valuable tool in operating your hive monitor. The app will connect your smartphone or other handheld device to Hive Monitor, with reliable communications to give you access to the monitor data.
After sending data to your smartphone, this is then uploaded to the Internet (if within cell tower range or when it enters cell tower range).
This app tool has the following features:
Live Data: See the real-time weight of your hive and ambient temperature.
View Data: View your weight and temperature data on interactive graphs after uploading your monitor data.
Read New Data: Upload all new weight and temperature data since the last reading.
Upload Data: Upload your monitor data to the Internet so that it is viewable through your favorite browser.
Set GPS Location: Set the GPS location of your monitored hives.
Each hive monitor comes with software & activation, including an online account, data storage in the cloud, technical support, 1-Year warranty and web/mobile application.
Video Testimonial