Sherriff Apiarist Suit
For decades, the Apiarist Suit has been a favorite of many beekeepers.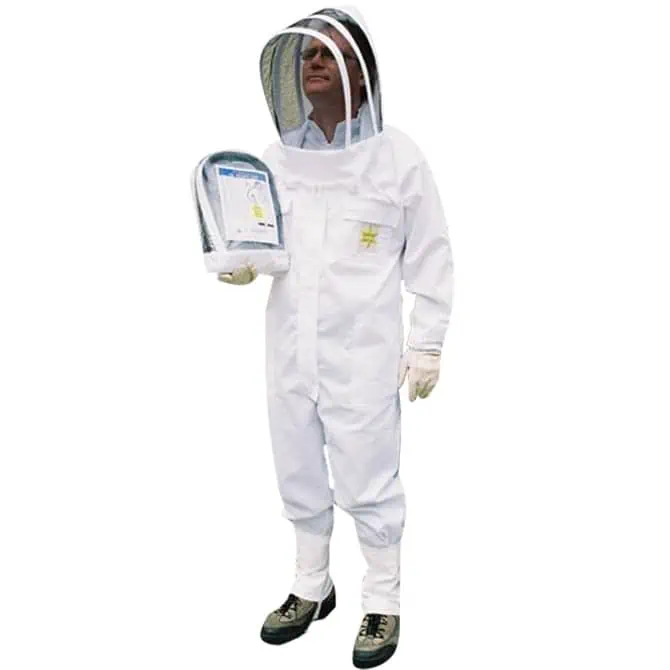 The white Apiarist Suit has been a best-seller of BJ Sheriff for approaching 50 years. The high-quality polyester cotton fabric is lightweight, and created to last for years to come.
Used by thousands of beekeepers, from all beekeeping experience levels, you can have confidence in this suit's reputation for reliable protection while out in your bee yard.
Features:
Rugged, easy-pull zippers at collar, front, and ankles.
Extra strength stitching.
Elasticated back waist and ankles.
Thumb loop to retain cuff in position.
Velcro-flapped breast pockets (pen pocket), roomy hip/thigh pockets, hive tool pocket, and EPIPEN pouch, with key ring clip in lower pocket to keep house and car keys safe.
Luxury, hard-wearing polycotton fabric that won't shrink or fade.
Sherriff's own sturdy ClearView black nylon mesh veil for exceptional vision and protection.
Note:
BJ Sherriff Size Guide (Sizing is designed so regular clothing can be worn underneath the suit):
| | | | | | |
| --- | --- | --- | --- | --- | --- |
| | Small | Medium | Large | X-Large | XX-Large |
| Height | 5'5″ | 5'10" | 6'1″ | 6'3″ | 6'5-1/2″ |
| Chest | 34-36″" | 38-40″ | 42-44″ | 46-48″ | 50-52″ |
| Inside Leg | 31″ | 33″ | 34-1/2″ | 35-1/2″ | 37-1/2″ |
| Under Arm | 22-1/2″ | 24″ | 25″ | 26″ | 26-1/2″ |
| Waist | 37″ | 42″ | 44″ | 46″ | 52″ |
| Back length | 35″ | 37″ | 39″ | 40-1/2″ | 41″ |