Candle Making Beginner Kit
Use the beautiful beeswax that our bees share with us by making handmade beeswax candles! This kit includes everything you need to get started.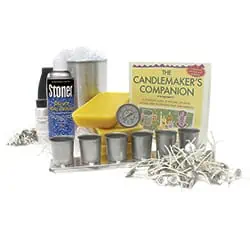 Candle making has been a favorite past-time of many beekeepers looking to get the most out of the products that they harvest from their beehives.
This complete candle-making kit is perfect for beginners. It's easy to use and includes a comprehensive book that will help with all parts of the candle-making process. Instructions include many different forms of candle-making such as rolling, pouring, dipping, and decorating your own candles.
Whether you want to use beeswax from your own hives or the beautiful yellow wax included, you'll have everything you need to get started quickly on making your own candles!
Here's everything that's included with this kit:
3 Qt. Aluminum Pouring Pot
Candlemaker's Companion
3 lbs. Cleaned Yellow Beeswax
Metal Votive Mold: 6 Candle Capacity
100 Plastic Tea Light Cups
80 Pre-assembled Votive Wicks
100 Pre-assembled Tealight Wicks
Thermometer
Silicone Candle Mold Spray
Note: Candle Wax Remover is no longer included in this kit due to availability.
This kit will allow you to create 30 Pure Beeswax Tealight Candles and 12 Votive Candles.
Note: We are unable to make any substitutions for the items in this kit.