Rubber Tealight Mold
Makes 15 beautiful tealight candles.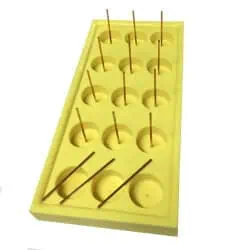 The most efficient way to make tealight candles.
Simply place the included pins in the mold and pour your beeswax. Once cooled, remove the candles and slip a wick into the hole left by the pin.
Made of long-lasting polyurethane, you'll get hundreds, perhaps thousands of pours from each mold.
Finished Candle Dimensions:
Note:
Uses .5 oz. of wax per candle