Lip Balm Making Kit
Use this DIY kit to make flavored lip balm for yourself or to give away as gifts!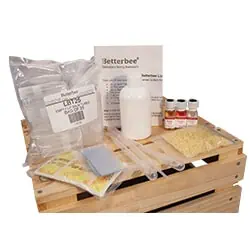 Whether you're looking for the perfect gift for that crafty person in your life or looking to try a new hobby yourself, our lip balm kit makes it easy to get started.
This kit comes complete with everything that you need to make up 25 tubes of beeswax lip balms.  You'll have the chance to learn a new hobby while utilizing one of the beautiful gifts that our bees share with us, pure beeswax!
Get started today in learning how to make beeswax lip balms for yourself, or to give away to friends and family as gifts.
A package of beeswax pastilles is included, but your own hive's beeswax can also be used for future batches.
With this kit, you'll get everything listed below:
Beeswax Pastilles
Sweet Almond Oil
25 Lip Balm Tubes
Wintergreen, Vanilla and Strawberry Flavors
25 Lip Balm Tube Labels
25 PVC Shrink Wraps
Complete set of Instructions