1000mm Uncapping Tank & Cover
This reinforced stainless steel uncapping tank is a perfect addition to your honey extraction workflow.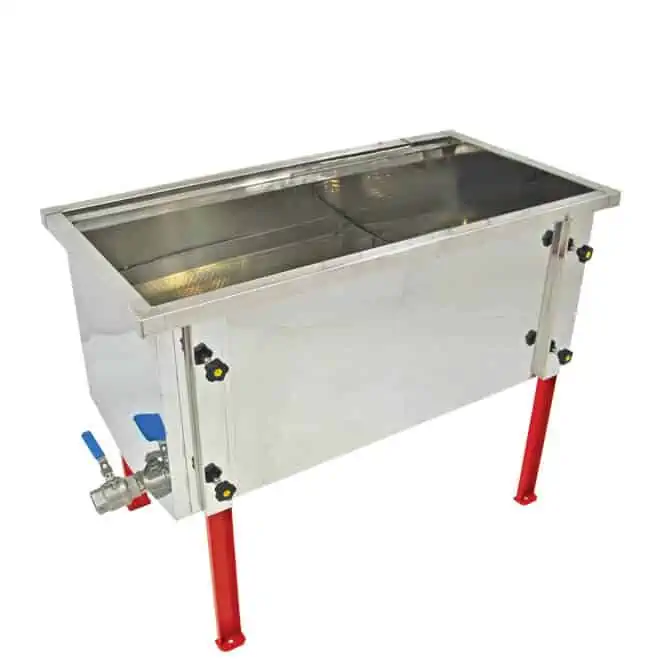 A reinforced stainless steel uncapping tank that is a perfect addition to your honey extraction process. Large capacity allows for 18 frames while using the included support stand (which holds frames while removing wax cappings), and up to 28 frames without the stand.
Straining wax cappings is easy by using the removable basket, which holds cappings off the bottom of the tank and allows them to drain. Works well with the Steam Uncapper.
Features:
Trapezoidal bottom for strength
Adjustable height legs
Stand to hold frames while uncapping
Two (removable) capping baskets
Stainless cover
Product Specifications:
Tank
Outside Dimensions: 21-7/8″ wide x 42″ long
Inside Dimensions: 19-1/4″ wide x 39-3/8″ long (1000mm)
Frame support strips: 5/8″ below tank top and 5/8″ wide
Distance between frame support strips: 18″
Tank straight side depth: 15″ (bend for trapezoid)
Tank depth at bottom of trapezoid (tank outlet): 17″
Width of trapezoid bottom (flat section): 2″
Overall height: 33-1/2″ to 32″
Outlet: 1-1/2″ Stainless steel welded elbow with honey gate
Accessories
One wax tray w/handles
Wax tray dimensions: 18-3/4″ wide x 38-3/4″ long
Wax tray holes: 3/8″ long x 1/8″ wide
Wax tray hole layout: 3/8″ centerline to centerline with 1/4″ offset spacing
Frame uncapping support: 15-3/8″ long x 21-7/8″ wide x 15-3/4″ high
SHIPPING NOTE : Our large extractors are heavy-duty products, with specialized shipping requirements. On receipt of your order, we will contact you with some brief questions about delivery logistics. These are sent within 24 hours of your order being received and to the email address specified with your order.