Lyson Standard Bottling Valve
A heavy duty, spring-loaded valve made from stainless steel. Can be used on tanks with 1.5" sanitary fittings and some stainless steel honey gates. Push down on the handle to fill your jars and when released the valve closes.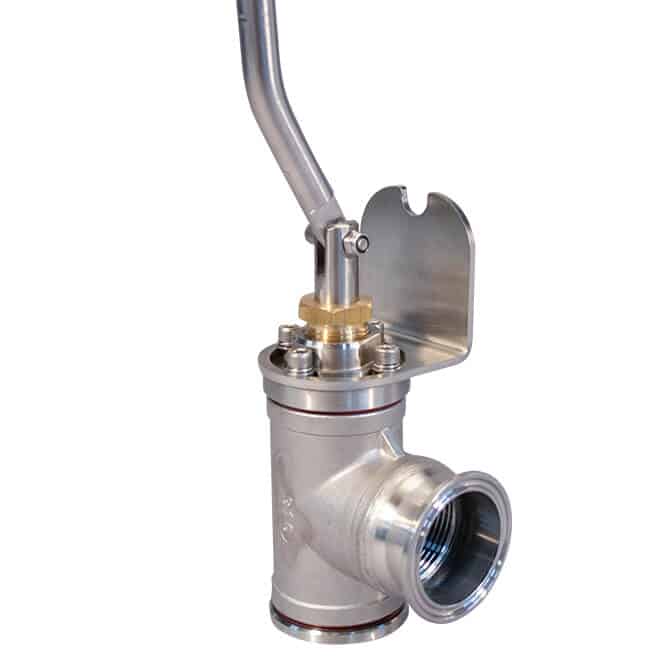 The valve's 1.5″ sanitary fitting connects directly to any tank with a 1.5″ sanitary fitting. This includes newer Lyson bottling tanks and Lyson premium bottling tanks.
Note: We do not recommend using this valve to bottle creamed honey.
A stainless steel adapter (included) will convert a stainless steel honey gate to a 1.5″ sanitary fitting for the bottling valve. To complete the assembly a 1.5″ sanitary gasket and 1.5″ tri-clamp are also included.
Product Specifications:
Overall Height: 6″
Handle Length: 9″
Valve size: 1 1/2″ sanitary fitting
1 1/2″ sanitary fitting gasket included
1 1/2″ sanitary fitting tri-clamp included
1 1/2″ sanitary fitting to honey gate adapter included
Honey gate adapter does not have an o-ring
Honey gate mounting bolt diameter: 7/32″ max
Honey gate mounting bolt spacing (center to center): 2 13/16″ – 3 3/16″
Honey gate minimum o-ring inside diameter: 1 5/8″
Honey gate maximum o-ring outside diameter: 2 1/8″
Weight: 3 pounds 12 oz