Ultimate Comb Uncapper
A unique and user-friendly solution to an age-old challenge for beekeepers.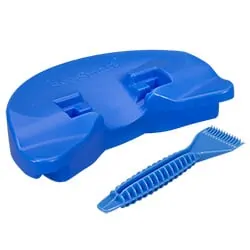 A quick and inexpensive way to uncap your frames quickly and inexpensively. Transfers any 5 or 6 gallon food-grade plastic bucket into an uncapping tank.
The included Uncapping Slicer simplifies the uncapping process and is easy to clean. Creates less mess, due to a specially-designed drainage system in the uncapper platform which directs honey and cappings into your bucket.
Need a bigger workspace? Try our Uncapping Tank
Features
Cut up or down

Works with all uncapping tools
Drainage system directs honey and cappings into bucket
No mess!
Accommodates both medium and shallow frames
Works with wood or plastics, square or bevel cornered frames
Made in USA from recycled materials
Fits any 5-6 gallon bucket with or without strainer or filter bag
Deep grooved for stability
Lightweight with built-in hand hold
Smooth surface cleans up easily
Stores easily in bucket
Note : Color may be blue or white