MegaBee 5lb Bag
Easily mixes with heavy syrup to make nutritious pollen patties for bees.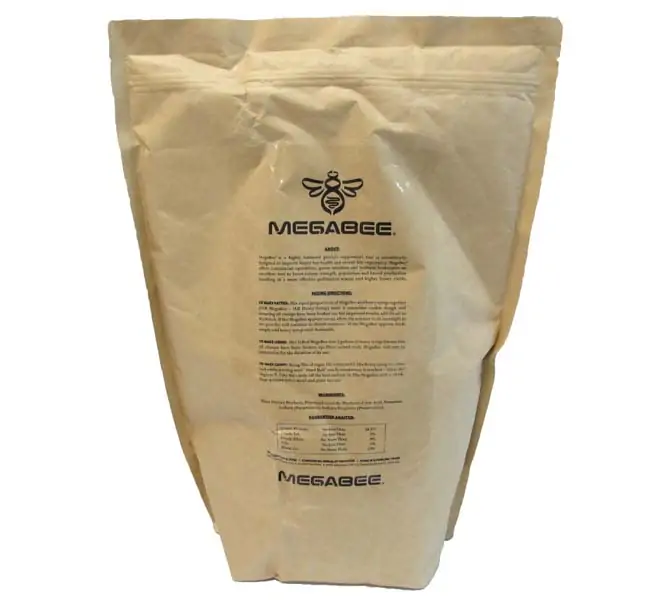 MegaBee is a highly balanced protein supplement that can be made into liquids, candies or pollen patties for bees that are scientifically designed to improve honey bee health and overall life expectancy. MegaBee offers commercial operations, queen breeders and hobbyist beekeepers an excellent tool to boost colony strength, population and brood production resulting in a more efficient pollination season and higher honey yields. Store in a cool, dry place.
Mixing Directions
To Make Patties:
Mix equal proportions of MegaBee and heavy syrup together (1LB MegaBee to 1LB Heavy Syrup) until it resembles cookie dough and ensuring all clumps have been broken up. For improved results, add 4% oil to the batch. If the MegaBee appears runny, allow the mixture to sit overnight as the powder will continue to absorb moisture. If the MegaBee appears thick, simply add heavy syrup until desirable.
To Make Liquid:
Mix 1LB of MegaBee into 2 gallons of heavy syrup. Ensure that all clumps have been broken up. Once mixed well, MegaBee will stay in suspension for the duration of its use.
To Make Candy:
Bring 7LBs of sugar, 1LB water and 1.5LBs heavy syrup to a slow boil while stirring until "Hard Ball" candy consistency is reached, 255 to 265 degrees Fahrenheit. Take the candy off the heat and stir in 2LBs MegaBee with a whisk. Pour mixture into a mold and allow to cool.
Ingredients
Plant Protein Products, Processed Grain By-Products, Citric Acid, Potassium Sorbate (Preservative), Sodium Propionate (Preservative). Contains no animal by-products.
Our pollen is irradiated which means it is exposed to radiant energy to prevent the spread of bacteria and disease from beehive to beehive.