Someday, I dream of keeping my own bees. Along with a few beehives, I'd love to have some chickens (fresh eggs!), a vegetable garden, maybe a few apple trees. I imagine a sprawling front porch to sit and take it all in.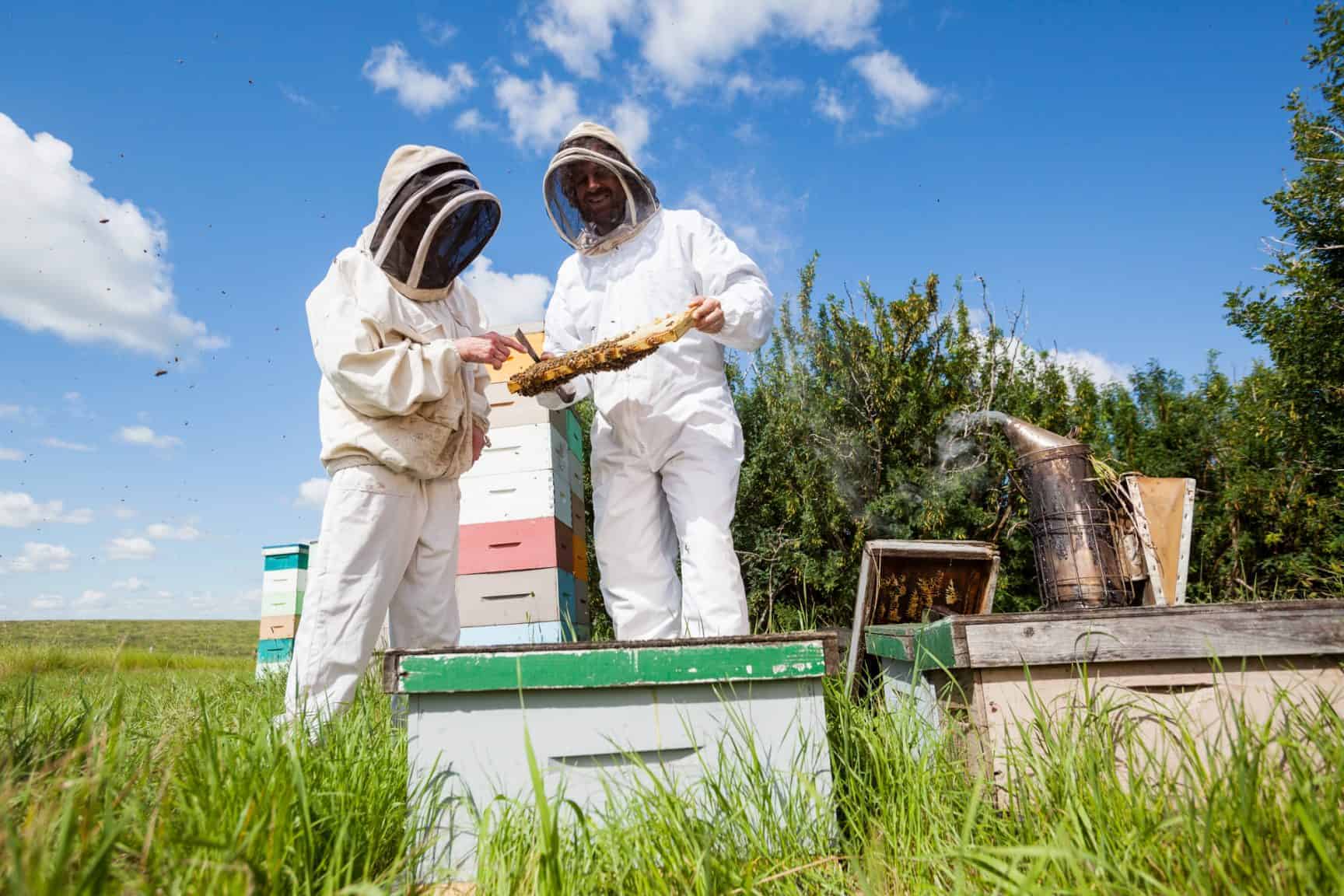 In case you're wondering, I did grow up reading Little House on the Prairie.
The problem is, I'm writing this as I look out on a bustling city street, from my small apartment that I don't think I'll be in much longer than a year. Somehow, I can't imagine my landlord being delighted at the idea of some buzzing (possibly stinging) new tenants.
All things considered, this isn't the best time in my life to start a beehive. But I can't deny my curiosity and growing interest in honeybees. So, what's a girl to do?
Find ways to join the beekeeping community, and enter the conversation about honeybees. Here are six ways to be involved in the beekeeping community (without moving a beehive into your too-small backyard).
1. Connect With Other Beekeepers Online
Beekeeping websites and blogs are a great way to learn about beekeeping from those who know best: the beekeepers! Get to know a few friendly bloggers now, and not only will you enjoy their virtual company, they might even be able to help when you decide to begin your beekeeping operation. Our very own PerfectBee has a devoted Facebook following, with bee-lovers sharing, commenting, and answering questions on the daily. It's a great place to connect with other bee-lovers (special shout-out to other PerfectBee bloggers, Sarah and James).
Of course, PerfectBee isn't the only beekeeping blog out there. There's something about beekeeping that inspires beekeepers to share their stories and photos online. Check out Emily Scott's www.adventuresinbeeland.com for thoughtful stories of her beekeeping adventures, bee-related articles and (huge bonus) occasional cat pictures.
2. Find A Local Beekeeping Mentor
While online beekeeping friends can bring a lot of joy, don't underestimate the power of a local beekeeping mentor. And if you don't have a beehive yet? Don't sweat it. Chances are, local beekeepers in your area will be more than glad to let you lend a hand in their own beekeeping operation, and share their experience. You'll learn valuable information about how bees fare in your region; essential for when you eventually start your own beehive.
I did a search for local beekeeping mentors near me. To my amazement, I found personal cell-phone numbers of many beekeeping mentors, offering to advise or assist curious bee-lovers. Wondering if this was unique to my area, I did a search for beekeeping mentors in several other US cities. Incredibly, I found the same thing: fellow bee-lovers, eager to share their craft and sharing their phone numbers online. Beekeepers are a trusting bunch.
3. Join a Bee Club
Ask beekeepers where they got their start, and many will point to a certain class or club that inspired and supported them. With a recent resurgence in beekeeping's popularity, it's easier than ever to find these bee clubs. I was surprised and excited by the number of bee clubs in my state (and many other states that I checked). Bonus: once you become a member of a beekeeping association or club, you can often borrow equipment and supplies as you are getting started.
Check out www.bees-on-the-net.com/beekeeping-clubs-bee-associations-groups/, click on your state, and voila! This database shows you the leader, the location, and the meeting times of the beekeeping association. Even without a beehive, you can volunteer to help other beekeepers, learn more about beekeeping, and build valuable connections to utilize when you start your beehive.
4. Educate Others
Even if you don't have a hive yourself, there's a lot you can do to show you care about bees. Educating your friends and family about Colony Collapse Disorder, and introducing them to local, organic honey can help the beehives of those around you. Plus, you might inspire someone else to start a beehive!
The Honeybee Conservancy (http://thehoneybeeconservancy.org/) is a non-profit organization that aims to educate the public about the plight of bees, among other goals. You can donate money to sponsor a beehive, which will be used as an educational tool in community gardens. Pretty awesome, right? You can even print out your own bee-education resources. Another cool idea comes from the documentary "Vanishing of the Bees." You can pay for rights to host a local screening of the film, and gather other like-minded bee enthusiasts to share in a conversation about the dangers facing bees today.
5. Plant A Bee-Friendly Garden
You can enjoy a piece of caring for bees without the long-term commitment of a beehive, right in your own backyard. Even if you don't have a lot of space, bees will still appreciate some well-placed nectar, and you can enjoy their visit from your porch or kitchen window. Focus on curating a wide variety of nectar-rich plants that grow in each of the seasons. On PerfectBee's Pinterest page, you can even find advice about building the ultimate bee-garden fixture: a bee bath! Any shallow pool of fresh water with landing spots will do, and the nearby honeybees will thank you for the hydration.
This spring, I will definitely be adorning my (very small) deck with a variety of pesticide-free plants and a little bee bath, in hopes that it brings some sustenance to bees in the area. Maybe I'll even catch a few "bee dances" as the bees invite their friends to check out my space.
6. Visit a Farm or Bee Sanctuary
A quick search for bee farms, sanctuaries, community bee gardens, or wildlife reserves in your area might just connect you with a whole assortment of weekend fun right in your own town. Honey tastings, educational activities, and free bee tours are all within a few hours drive of my home. What better way to spend a spring or summer day? Invite a friend, and don't forge to donate or make a small purchase at the end of your trip to support the beekeeper or organization.
In my area, there's an amazing bee biking tour this summer that I can't wait to attend. Complete with educational stops at a farm, nature center, and agricultural hall, this event also boasts a honey extraction demo (and a delicious-sounding lunch). Something to look forward to at the end of a long, cold winter!
Even though I'm not quite ready to start my beehive, there's still so much to do to get involved in the welcoming beekeeping community. When I finally realize my beekeeping dreams, I will be as prepared as possible. And I think I'll have some fun on the journey to getting there.