Complete 2-Box Langstroth Hive
Complete assembled kit and a perfect way to start, whether adding a new colony to your bee yard, catching swarms or making splits.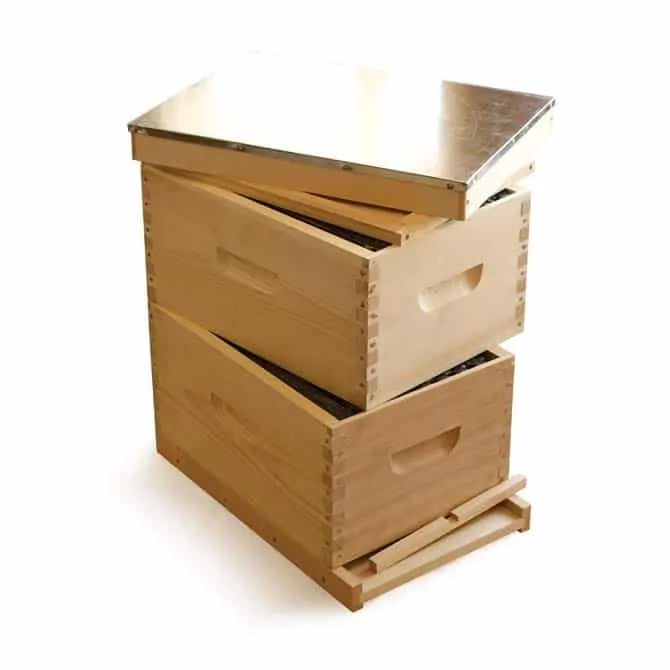 This complete and assembled Langstroth hive includes all you need to start, with a number of choices for the hive you prefer.
Options
Box Size: This hive is available with either 8 or 10 frame deep boxes. The boxes include a full set of plastic frames (16 or 20 frames, respectively). These high-quality boxes are manufactured in Maine, using Eastern White Pine. They feature authentic box joints, predrilled nail holes, and E-Z grip 6″ hand holds.
Bottom Board: A solid, reversible bottom board is available or, for those with a preference for Integrated Pest Management (IPM), we offer a screened bottom board that can help with both adding ventilation and completing varroa mite drop counts.
Frames: The hive comes with a full set of black plastic frames (either 16 or 20 frames, depending on your box size) with built-in foundation. Each frame's foundation is already covered with a beeswax layer to give your bees a headstart on drawing out comb. We also offer the option of a heavy wax layer, which further increases the possibility that your bees will take to the foundation quickly.
Also included:
Telescoping Outer Cover
Standard Wooden Inner Cover
Pine Entrance Reducer
Dimensions: 10-Frame (20" x 16-1/4″ x 9.5″) | 8-Frame (19-7/8″ L x 13-3/4″ W x 9-1/2″ H)